Come join Steven St. John at the Schlotzsky's in Raymore to celebrate it's one year anniversary! You can meet Steven St. John from 11am-1pm and give yourself a chance to win various prizes including free gift cards, tumbler cups, FREE Schlotzsky's for a year and more.
Plus you can take advantage of the 810 lunch special at all Schlotzsky's locations.
Schlotzsky's opened in 1971 with a small restaurant on South Congress Ave. in Austin, Texas. Back then, they served only one sandwich — The Original! A unique combination of 13 ingredients served on toasted house-made sourdough bread! The Original, a sandwich as unique as the Schlotzsky's name, is still served to this day, over 45 years later!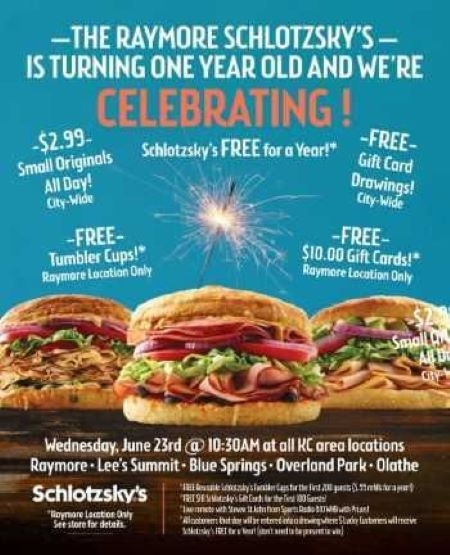 Venue: Schlotzsky's - Raymore
Sandwich shop
2023 W Foxwood Dr
Raymore, MO 64083
Phone: (816) 245-7355