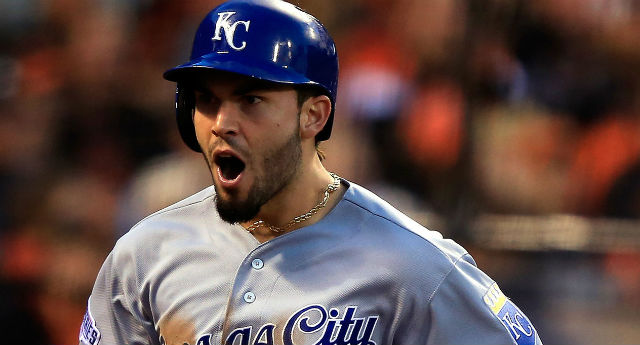 By Jeff Montgomery
I had a chance to spend a little time with Royals owner David Glass and his wife, Ruth, a week or so ago at the Royals' holiday party down on The Plaza. It was a very good visit with Mr. Glass and as usual, I found myself looking at things a little differently than I did before conversing with him.
There has been much talk about the Royals "window" of opportunity to compete for another World Series title and how that window could close after 2017. Some not only think it will close; they think it will be slammed shut.
However, after talking with Mr. Glass, I am more excited about next year's team than I was before the conversation. He made a comment that I should have thought about, long before hearing it come out of his mouth. It has to do with the large amount of potential free agents that are likely going to be suiting up in Royals uniforms on April 3rd when the team opens in Minnesota against the Twins. It is his belief that with so many players in the final year of their contract with the team, there will be a large amount of players who have career years.
As a player, I never thought a great deal about needing to have a big year before becoming a free agent but looking back, it seemed like those were always good years. I'm talking about those years when there was a team option on my contract or years that were the final season of a multi-year deal.
Another refreshing conversation at the holiday party was one I had with Dayton Moore. I had a chance to talk with him a little about the trade of Wade Davis for Jorge Soler. Obviously Davis would have been one of the potential free agents the Royals would have trotted out there had he not been traded, and he certainly was extremely productive over the past three seasons as a reliever.
What I took away from my conversation with Dayton about the trade was more about Jorge Soler than it was about Wade Davis. As much as Dayton loved Wade Davis in Royal blue, I could tell that he is extremely excited about the potential ahead for Soler. He really likes him as a player and a person, and the amount of time and work Dayton and his staff have invested in potential acquisitions has paid enormous dividends for his teams. He has not acquired many "bad apples".
With Christmas and the New Year right around the corner, it will be both fun and interesting to see how the final pieces of the Royals puzzle come together over the last few months of the baseball offseason. I had an enjoyable time at the Royals holiday party catching up with the dozens of Royals personnel that I see on an almost daily basis at the ballpark during the season, but I had an even better time hearing such words of enthusiasm from Mr. Glass and Dayton Moore. I think we could have some more fun in store for next season. Stay tuned.
By Jeff Montgomery
After much speculation, the Royals have traded Wade Davis. Going back to the middle of last season, there were numerous rumors about the possibility of such a trade happening. Concerns over Davis' elbow and two stints on the Disabled List squelched trade talks last season.
There is no doubt that Wade Davis became one of the best relievers in baseball after his transition to the bullpen in 2014. He was a big reason the Royals were able to play in back to back World Series and became one of the most feared bullpens in all of baseball.
The 31-year old had an ERA just north of 1.00 over the past three seasons and was great fun to watch but it was apparent last year he was not quite the same pitcher he was in the previous two seasons and was limited to 43 1/3 innings on the year and not many at all during the second half of the season.
When we look back at the trade between the Tampa Bay Rays and the Royals in December of 2012 that brought both Wade Davis and James Shields to the Royals in exchange for Wil Myers, Jake Odorizzi, Mike Montgomery, and Patrick Leonard, how will we remember the trade? Almost every baseball expert around the country thought the Royals were crazy for parting with the young talent it took to land Shields and Davis. They especially hated the fact that Minor League Player of the Year was being traded and his Major League service clock had not even started to tick yet.
Everyone seemed to refer to the trade as the "Shields trade". Most everyone thought Davis would be a middle to bottom of the rotation starter who would likely be overpaid at the end of his long term contract unless Pitching Coach Dave Eiland could find a way to fix his mechanics.
We all know what James Shields brought to the team in his leadership role. He was also able to pitch in some big games and make a difference in the standings too. But, I don't think anyone could have predicted the transformation we witness in Wade Davis as he became one of the most feared pitchers in the game. One opposing hitter described hitting off Davis as being similar to getting in the batting cage with the machine turned up to 100 and using scuffed up baseballs. You just could never tell what the ball was going to do.
So, as we move on without Wade Davis in the bullpen, will the trade that made him a Royal be referred to as the Davis trade or the Shields trade? One thing for sure is that no one seems to refer to it as the Myers trade any more.